FAQforge provides answers for frequently asked questions for the Linux-, MAC and Windows operating systems.
Friday, December 7, 2012 - posted by CSch
One of the most unnecessary things that Windows 8 brings to desktop computers might be the lock screen you need to wipe away every time you start your machine – luckily it's also one of the things you can disable.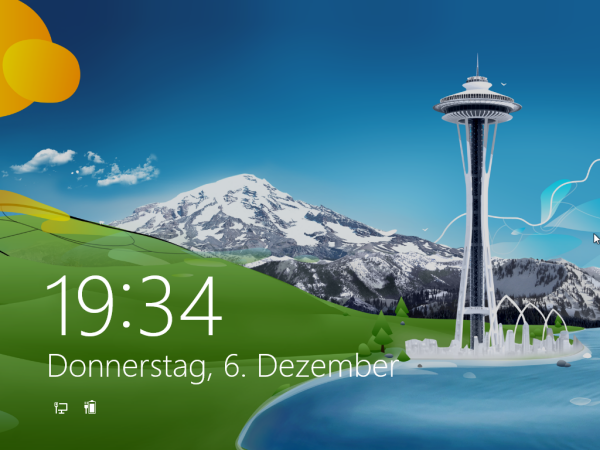 To do so, open the Local Group Policy Editor (as shown here).
Browse the left pane for Computer Configuration > Administrative Tools > Control Panel > Personalization and double-click Do not display the lock screen on the right pane. Enable the setting and confirm by clicking Ok!
Thursday, December 6, 2012 - posted by CSch
The times are over where you just hit a key and typed everything you needed in to get there. Now you need to learn key combinations or know how to get to the items you need by clicking your way through. System items such as the Group Policy Editor that are usually hidden deep within some system folders are an especially hard case – that's why I'll show you the easiest way to get there here.
First,
- open the Charms menu by hovering your cursor over the top-right corner and
- click the Search charm. Afterwards
- click on Settings on the right pane and
- enter policy: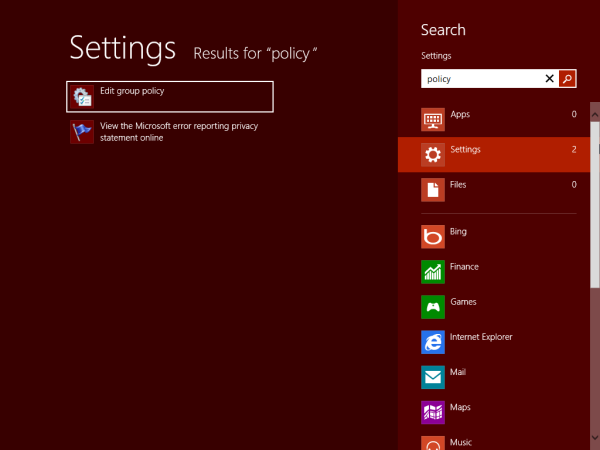 Update: The Local Group Policy Editor is only included in Windows 8 Pro, but not in Windows 8 Home. Thanks to Mahmood and Dave for pointing that out.
Friday, November 30, 2012 - posted by Till
The following guide shows how to disable and remove mysql replication from two or more mysql servers. These steps can be used for master/slave and master/master mysql setups. The following SQL commands have to be be executed in phpmyadmin or with the mysql commandline program. It is just important that you are logged in as mysql root user. Below I will use the mysql commandline client.
Login into mysql as root user from commandline:
mysql -u root -p
the mysql command will ask for the mysql root password.
Then execute these commands if the installed mysql version is < 5.5.16:
STOP SLAVE;
RESET SLAVE;
QUIT
use the commands below instead if the mysql version is > 5.5.16
STOP SLAVE;
RESET SLAVE ALL;
QUIT
Now edit the my.cnf file (/etc/mysql/my.cnf) and add a # in front of all lines that start with "replicate-" or "master-". Example:
# replicate-same-server-id = 0
# master-host = 192.168.0.105
# master-user = slaveuser
# master-password = akst6Wqcz2B
# master-connect-retry = 60
Then restart mysql:
/etc/init.d/mysql restart
Friday, November 30, 2012 - posted by CSch
With Aero gone, the options to customize the appearance of your Windows desktop have highly decreased. Though while you don't have the option to add transparency to window borders, you can still achieve them with a simple trick (you won't have the blur anymore – just transparent borders).
To do that,
- right-click your desktop and click on Personalize.
- Activate the High Contrast White theme and
- click on the Color options beneath the theme selection pane.
- Right-click your desktop again to open another personalization window (don't close the first one).
- Activate one of the default Windows themes again.
- Afterwards, switch to the first window again –
- click the Save changes button there.
You should now have transparent window borders without blur:
As you might have noticed this way of achieving transparent borders is not intended to be used – some machines may experience graphic corruptions when using this method. If you happen to have these, you can reverse the whole thing by chosing another theme again!
Thursday, November 29, 2012 - posted by Till
The following guide describes the steps to add DNS records that route emails from a domain managed in ISPConfig 3 to google apps / gmail. The guide assumes that you have already setup the dns zone for your domain in ispconfig.
Login to ISPConfig, click on the DNS module icon in the upper navigation bar, then open the settings of the DNS zone that you want to redirect to google and click on the "records" tab. You should see a record list similar to this: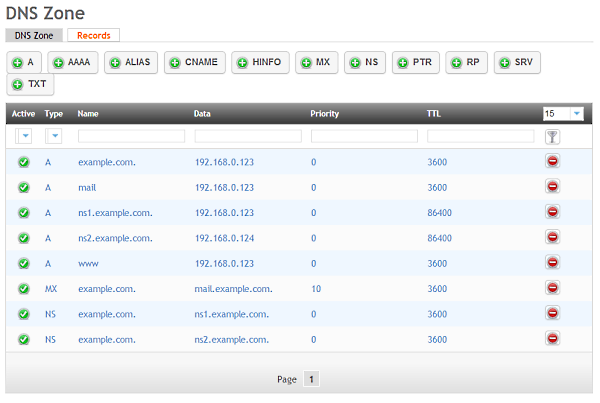 Now Delete the existing MX record and the "mail" A-Record. Then add the following new records:
CNAME Record:
Hostname: mail
Target: ghs.google.com.
MX Records:
example.com. ASPMX.L.GOOGLE.COM. 10
example.com. ALT1.ASPMX.L.GOOGLE.COM. 20
example.com. ALT2.ASPMX.L.GOOGLE.COM. 30
example.com. ASPMX2.GOOGLEMAIL.COM. 40
example.com. ASPMX3.GOOGLEMAIL.COM. 50
IMPORTANT: All full domain names like "ghs.google.com." have to end with a dot, if the dot is missing, the name is treated as subdomain of the zone.
The resulting record list should look like this: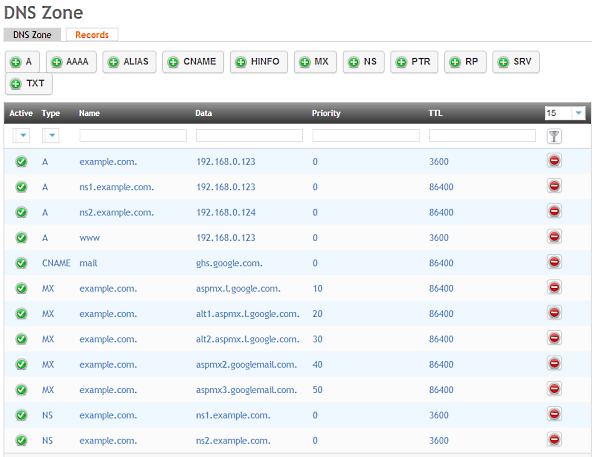 Thursday, November 22, 2012 - posted by CSch
There's one important feature missing in Thunderbird that you will need when working with many different accounts, that is, reordering them. You won't find any option for this in the settings, nor is there any obvious way. The only one I found involved editing the prefs.js file (close Thunderbird while doing so!), that is located in C:\Users\user-name\AppData\Roaming\Thunderbird\Profiles\[profile-name]: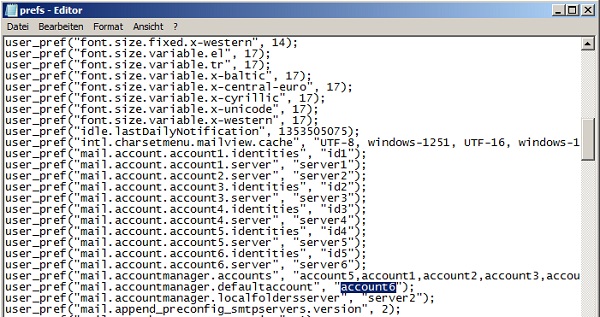 Some people suggest changing the order of the user_pref("mail.accountmanager.accounts") parameter but this did nothing for me. What worked instead was setting the user_pref("mail.accountmanager.defaultaccount", "accountx") parameter.
Setting it will put one account at the top of the list – by repeating this process, you can order your accounts the way you want it! Just replace the number of the account (marked with x in the text above) with the one you want top.
Wednesday, November 21, 2012 - posted by Till
Starting with the Mozilla Thunderbird 17, the classic title bar has been hidden in Thunderbird. To get the classic title bar back, follow these steps:
Start Mozilla Thunderbird.

Open the config editor by clicking on Tools -> Options -> Advanced -> General -> Config Editor (button)

Navigate to the setting "

mail.tabs.drawInTitlebar" in the config editor and set it to "false" by double clicking on the line.

Close the config editor and restart Thunderbird
Click on
Wednesday, November 7, 2012 - posted by CSch
Just as in Windows you have the option to rotate your screen into any direction in Linux, too. While in Windows you only need to press some keys, a key combination is not configured in Linux by default. But as you may have figured out, there are some terminal commands that let you do the exact same thing (you can configure shortcuts for these manually later on).
First, you need to find out how the screen that you want to rotate is labeled – to do that, use the following command:
xrandr -q
Screen 0: minimum 320 x 200, current 1366 x 768, maximum 8192 x 8192
LVDS1 connected 1366×768+0+0 (normal left inverted right x axis y axis) 344mm x 194mm
1366×768 60.1*+
1360×768 59.8 60.0
1024×768 60.0
800×600 60.3 56.2
640×480 59.9
VGA2 disconnected (normal left inverted right x axis y axis)
HDMI2 disconnected (normal left inverted right x axis y axis)
DP1 disconnected (normal left inverted right x axis y axis)
You will get a list of connected monitors – I have only one here which is labeled LVDS1, it says connected next to the name. Determine the one that you want to rotate here. Next, we want to turn it around. For that, we use one of the following commands:
xrandr –output LVDS1 –rotate right
xrandr –output LVDS1 –rotate left
xrandr –output LVDS1 –rotate inverted
xrandr –output LVDS1 –rotate normal
Replace LVDS1 with your monitor label in the above commands and you'll be able to rotate the screen to your likings! This is especially helpful if you need to go through documents and can turn your physical monitor around.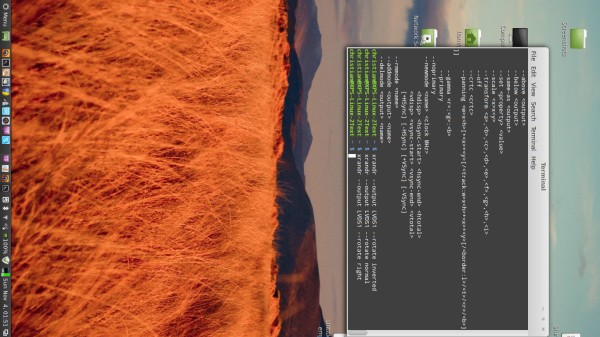 Monday, November 5, 2012 - posted by CSch
In the age of widescreens, Windows offers a really helpful function for viewing documents, or just play pranks on your friends. With a simple key-combination, you can rotate your screen into any direction – flip it upside-down, or lay it on the side: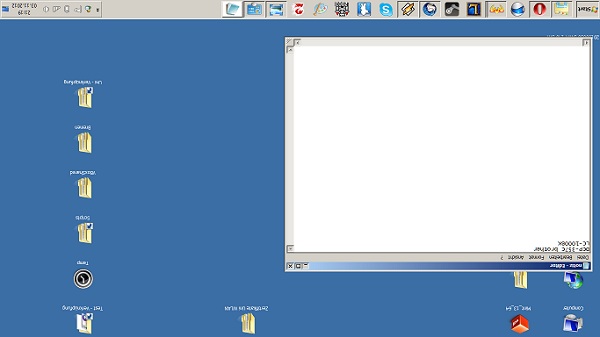 To rotate the screen, press Ctrl + Alt + Arrow key. The arrow you press determines what direction the screen will be turned. This feature is useful especially if you can set your screen resolution to fill the screen while it lies on the side – flip your monitor on the side afterwards and you've got the perfect size and resolution for viewing documents.
Monday, October 29, 2012 - posted by Till
Here is a short script that helped me to copy files that have ben modified within the last 60 minutes to a new directory. The script uses a combination of the find and cp commands, it has to be run inside the directory that contains the new files.  In this example, I will copy all files that have been modified within the last 60 minutes from /var/www to the directory /var/newfiles, you can replace the timespan or target directory in the script to match your reqzúirements.
First, enter the /var/www directory which contains the files:
cd /var/www
Then execute this command to find the latest files and copy them to /var/newfiles:
find ./ -type f -mmin -60  -exec cp -pf {} /var/newfiles/ \;