FAQforge provides answers for frequently asked questions for the Linux-, MAC and Windows operating systems.
Thursday, July 4, 2013 - posted by CSch
On a normal Windows boot the operating system loads all the programs and services that are configured to run on system startup. If your machine is haunted by a worm though it might be helpful to boot it with only the basic Windows services running - that is called a Diagnostic boot.
To get going, open a Run prompt by searching for run in the main menu. Enter msconfig. The following window should pop up:

Selective startup should be the one that's ticked. Check Diagnostic startup instead and confirm by clicking OK. To undo the changes, just repeat the steps and check the item that was selected in the beginning.
Wednesday, July 3, 2013 - posted by CSch
It can be annoying if your audio player has an over-all quieter sound than Windows and other applications, so their sound always overtune whenever you're listening to music. To raise the volume of Winamp alone without meddling with any Windows settings you can use the built-in equalizer which has a pre-amp setting.
To get there go to View > Equalizer:

Turn the slider on the far left side up to the top and click On.
Thursday, June 27, 2013 - posted by CSch
When there are new updates available for your installation of Windows 7 or 8, it prompts you with a Window asking you to either restart the computer or to postpone the installation for 10 minutes, one hour or four hours. Either option may not be the best sometimes, so why not postpone it by a full day in the first place? To achieve that, open the Local Group Policy Editor by searching for group policy in Windows' main menu.
In the left pane, navigate to Local Computer Policy > Computer Configuration > Administrative Templates > Windows Components > Windows Update. Click it once and select Re-prompt for restart with scheduled installations. Double-click it and check the Enabled checkbox. Now a counterbox becomes available on which you can specify a number of minutes, enter 1440 for a whole day, then apply the changes.
Wednesday, June 19, 2013 - posted by CSch
From time to time you may experience problems with the execution of the Java plugin in the Opera browser. This happens because its path is not correctly configured in the options.
To resolve the issue, open an Opera browser window and enter
opera:config#UserPrefs|PluginPath
into the URL bar. There should already be one path in the Plugin Path line. Enter a semicolon and add an additional path to the line. On a default Windows 7 and 8 installation, the Java plugin path should be
C:\Program Files\Java\jre7\bin\plugin2
depending on your version of Java. Afterwards, scroll all the way down and save. Restart the browser the the issues should be solved.
Thursday, June 6, 2013 - posted by CSch
Even Windows' wonderful plug-and-play feature lets us down sometimes. It might happen that a device you connected to your machine, be it by port or wireless, is not recognized by Windows and thus cannot be installed.
A common reason for that to happen with wireless devices is that Windows already tried to install the device once but failed for unknown reasons. The device will stay unknown and is not tried to be installed any more, no matter how often you reconnect it.
To solve that you need to go to the Control Panel, Hardware and Sound, Device Manager. Search it for the unknown device, right-click it and uninstall it:

Afterwards, try to reconnect the device once more. If the error does not persist, Windows should now be able to install its drivers and get it working.
Wednesday, June 5, 2013 - posted by CSch
When you install new printers on your Windows machine they might have the nasty habit of setting themselves as the new default printer. That may be fine if you intend to use that new printer a lot but can be a pain if you only use it once or twice.
To set another printer as default printer, follow these steps:
Open the Control Panel and go to Devices and Printers under Hardware and Sound. In the Printers and Faxes pane, right-click the printer you want to set as default and select the appropriate action: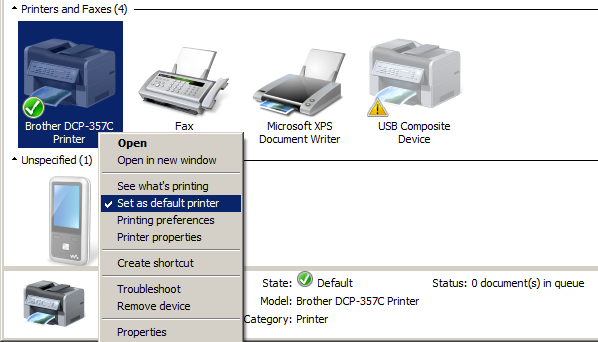 Sunday, June 2, 2013 - posted by CSch
Mac keyboards do not have the PrtScr key that you need to make screenshots on Windows machines. An easy way to circumvent that problem without getting a new keyboard is to use the built-in Windows on-screen keyboard. Regardless of what hardware keyboard is attached to the machine, the on-screen keyboard always provides the same keys including all keys to navigate Windows.
To use it, just search for On-Screen Keyboard in the main menu:

Saturday, June 1, 2013 - posted by CSch
Second monitors that are connected to a machine with already one or more monitors installed are often set to serve as extensions of your desktop by default. In some cases, e.g. if your second monitor is a television and you want to watch a movie running on your computer, it might be helpful if your second monitor duplicates what's running on your first.
To accomplish this is really easy on Windows 7 and 8: Just right-click your desktop and select Screen resolution. If you connected both screens to your machine already, these are the options you'll see: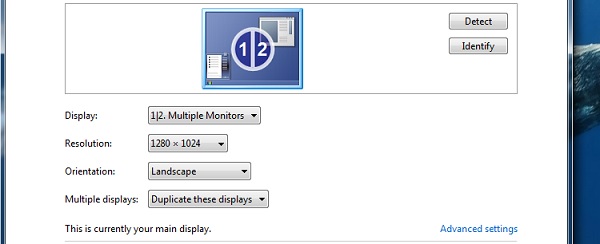 Under Multiple displays, select Duplicate these displays from the dropdown menu and click OK afterwards
Friday, May 31, 2013 - posted by CSch
Most mobile devices are capable of establishing bluetooth links these days. Although it is rather slow, it provides a handy way of sharing limited amounts of data wirelessly. Here I will explain how to do that on a Windows computer capable of bluetooth.
First, you need to check if you have enabled all services that you need to do so. Look them up by searching for Services in the main menu. Start all services with 'bluetooth' in its name by right-clicking them and selecting the appropriate action. Afterwards, close the Services window and search for Bluetooth File Transfer in the main menu. Then
- Select if you want to send or receive files on your machines. The other action must be performed on the corresponding machine.
- If you send files, after you selected the device to receive data, the corresponding machine will be shown a security code, which you have to enter on your side
- If you receive files, give the code shown to you to the sending machine so it can perform the sending.
Data you receive via bluetooth is stored in a temporary location while the transfer is in action and will be moved to the Documents directory after completion.
Thursday, May 30, 2013 - posted by CSch
You can only do this to view passwords of connections that you are or have been connected with, you cannot use it to retrieve passwords of connections you have never been logged in with! That makes it a tool to remember what password you set here or there.
To view a password, left-click the connections icon in Windows' taskbar and go to the Network and Sharing Center: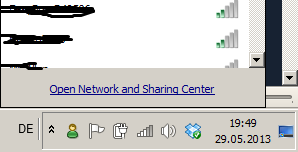 On the left pane, click Manage wireless networks. You will see a list of items here, these are all the wireless networks you have been in so far with your machine. Right-click any of then and select Properties. In the appearing window, switch to the Security tab. You can see the encryption type as well as your password here. Just click on Show characters so the clear text will be visible: