FAQforge provides answers for frequently asked questions for the Linux-, MAC and Windows operating systems.
Wednesday, June 5, 2013 - posted by CSch
When you install new printers on your Windows machine they might have the nasty habit of setting themselves as the new default printer. That may be fine if you intend to use that new printer a lot but can be a pain if you only use it once or twice.
To set another printer as default printer, follow these steps:
Open the Control Panel and go to Devices and Printers under Hardware and Sound. In the Printers and Faxes pane, right-click the printer you want to set as default and select the appropriate action: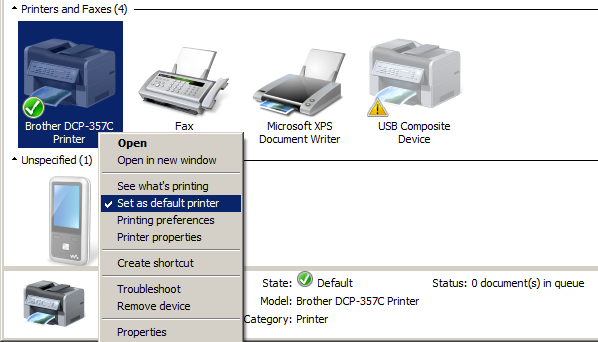 Sunday, June 2, 2013 - posted by CSch
Mac keyboards do not have the PrtScr key that you need to make screenshots on Windows machines. An easy way to circumvent that problem without getting a new keyboard is to use the built-in Windows on-screen keyboard. Regardless of what hardware keyboard is attached to the machine, the on-screen keyboard always provides the same keys including all keys to navigate Windows.
To use it, just search for On-Screen Keyboard in the main menu:

Saturday, June 1, 2013 - posted by CSch
Second monitors that are connected to a machine with already one or more monitors installed are often set to serve as extensions of your desktop by default. In some cases, e.g. if your second monitor is a television and you want to watch a movie running on your computer, it might be helpful if your second monitor duplicates what's running on your first.
To accomplish this is really easy on Windows 7 and 8: Just right-click your desktop and select Screen resolution. If you connected both screens to your machine already, these are the options you'll see: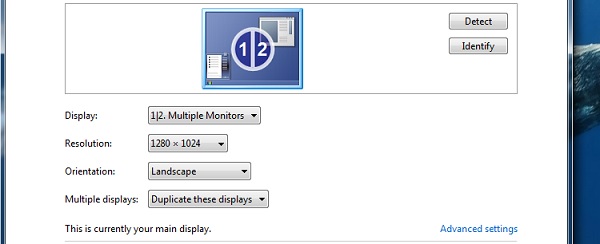 Under Multiple displays, select Duplicate these displays from the dropdown menu and click OK afterwards
Friday, May 31, 2013 - posted by CSch
Most mobile devices are capable of establishing bluetooth links these days. Although it is rather slow, it provides a handy way of sharing limited amounts of data wirelessly. Here I will explain how to do that on a Windows computer capable of bluetooth.
First, you need to check if you have enabled all services that you need to do so. Look them up by searching for Services in the main menu. Start all services with 'bluetooth' in its name by right-clicking them and selecting the appropriate action. Afterwards, close the Services window and search for Bluetooth File Transfer in the main menu. Then
- Select if you want to send or receive files on your machines. The other action must be performed on the corresponding machine.
- If you send files, after you selected the device to receive data, the corresponding machine will be shown a security code, which you have to enter on your side
- If you receive files, give the code shown to you to the sending machine so it can perform the sending.
Data you receive via bluetooth is stored in a temporary location while the transfer is in action and will be moved to the Documents directory after completion.
Thursday, May 30, 2013 - posted by CSch
You can only do this to view passwords of connections that you are or have been connected with, you cannot use it to retrieve passwords of connections you have never been logged in with! That makes it a tool to remember what password you set here or there.
To view a password, left-click the connections icon in Windows' taskbar and go to the Network and Sharing Center: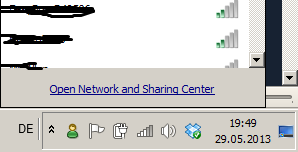 On the left pane, click Manage wireless networks. You will see a list of items here, these are all the wireless networks you have been in so far with your machine. Right-click any of then and select Properties. In the appearing window, switch to the Security tab. You can see the encryption type as well as your password here. Just click on Show characters so the clear text will be visible: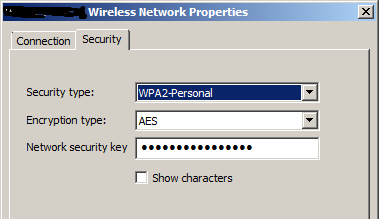 Wednesday, May 29, 2013 - posted by CSch
After establishing a bluetooth connection with another device from your computer the other device will propably stay in the Devices section of My Computer even after the connection is cancelled.

To remove that device follow these steps:
Open the control panel and head to View devices and printers under Hardware and Sound:

You will be presented with all the devices that are connected to your machine: printers, hard drives, input devices etc. Find the one that you want to remove, right-click it and remove it:

Monday, May 13, 2013 - posted by CSch
If you have some peculiar program installed that you need to have but want all its internet communication blocked you can do that easily with Windows' built in firewall. On Windows 8 just hit the Windows key to get to the main menu and
- type Firewall.
- Click on Settings on the right pane and
- go to Windows Firewall.
- Click on Advanced settings on the left side of the window.
- On the left pane of the new window, right-click on Outbound Rules and
- select New rule...
Now follow the setup wizards few steps to set the rule up. That's it! If you happen to need to deactivate the rule for a short time, you can just right-click it and do so:

Monday, April 22, 2013 - posted by CSch
If you work on a dual boot system you might experience that when you log off from Windows, onto Linux, and to Windows again, the time that is shown in the bottom right corner might be an hour or more off the actual time. This will correct once you refresh it by loading the time from a time server again but will remain an issue for the next logins.
This has not directly to do with daylight savings or an incorrect time zone, but most likely with Linux assuming that the BIOS time is set to UTC while it's set to local time. So it just changes the BIOS clock according to that. Logging in to Windows with the wrong BIOS clock will result in a wrong system time.
This Linux behavior can easily be changed though, so just login to your Linux system and open a command line. First log in as root with your password:
sudo su
Then enter following to open the rcS file (note that I use vi as text editor - you can use any other you like here):
vi /etc/default/rcS
Now look for the line reading UTC = yes and change it to UTC = no. Save the file and try to boot into Windows - if every other time setting is set correct you should get the right time now.
Tuesday, April 16, 2013 - posted by CSch
The absence of a hard drive on your system can have multiple reasons of which I want to discuss the most common here:
New drives
If it's a new hard drive or one that you have just plugged into that specific machine, you might want to check if the cabling is correct and, in case it's an external one, if it has a power switch hidden somewhere on the back.
One other thing with new hard drives is that they are not formatted but have only "unallocated space" on them. This is most likely the case if your new drive is recognized by the BIOS and your device manager but doesn't show up anyway. To check this, have a look at the device manager - you can find it by going to Control Panel > Hardware and Sound > Device Manager: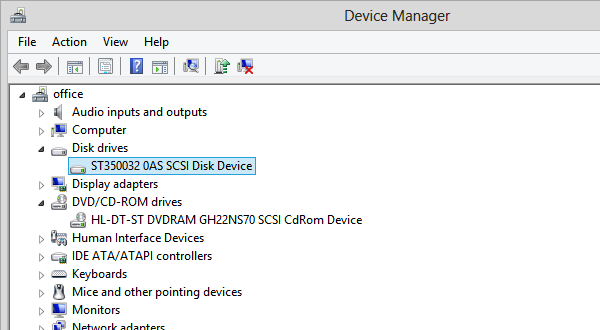 In the screenshot above you see my Seagate disk drive displayed. If you're not sure whether what is shown there really is the drive you've plugged in just search the internet for the cryptic name you have in there. If the new missing drive can be found here you most likely only need to format it (do that only to new drives that have no data on them - formatting will cause a complete loss of data on a populated drive). To do that Windows has a tool called Disk Management which you can find in Control Panel > System and Security > Administrative Tools > Create and format hard disk partitions: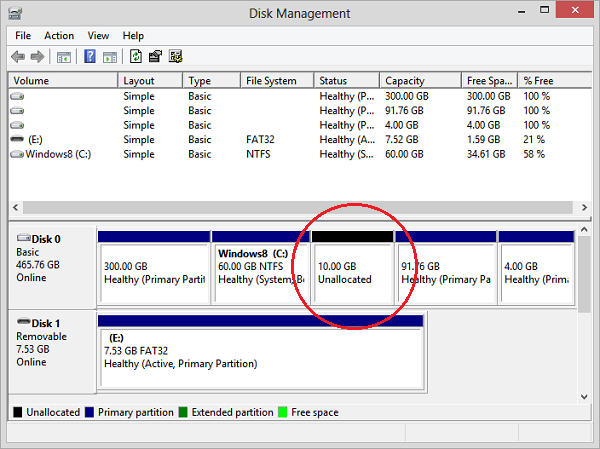 A new disk has none of those fancy partition blocks with colored stripes yet but plenty of unallocated space, like the one circled in red. This space needs to be formatted into an NTFS partition. Basically you can just right-click it, choose to create a new simple volume and click your way through the setup, you'll create one big partition by doing that. Afterwards the new drive should show up on Computer.
Nearly the same goes for drives or partitions with Linux operating systems or similar which Windows cannot read. These will be displayed in the device and disk management but not on Computer, so if you don't need the old operating system any longer and want to use the drive on Windows, you'll need to format it to NTFS first.
Missing drive letter
Another common source of confusion is a missing drive letter or path on a drive. The drive letter is the letter in front of your drive or partition, for example C:\ on your main drive. Every drive needs one so you can access it and if it's missing for some reason, the drive will not be shown.
The solution to that problem is in Disk Management again, so head there as described above and right-click the drive that's not displayed (you'll most likely notice it by the size). If the drive is already formatted, right-click it and select Change Drive Letter and Paths.... Add a drive letter of your choice that's not already taken and the drive should show up again.
Disabled or offline drives
It can happen that a drive of yours is disabled or offline. You can check in the Device Manager if that is the case. Go there as described above and right-click the drive you want to check. If you have the option to enable it or put it online then try that. If these options fail it might be that the drive is corrupt.
Show empty drives
Windows hides empty drives by default. This usually should not be an issue if your drive is formatted but you can change the setting anyway if you want to. Go to Control Panel > Appearance and Personalization > Folder Options. In the View tab, uncheck the Hide empty drives in the Computer folder box.