Posts Tagged 'uninstall'
Thursday, July 26, 2012 posted by CSch
Ubuntu:
To uninstall VirtualBox Guest Additions on Ubuntu and similar operating systems, mount the virtual disk again that you used to install them – to do that, click on the Devices menu on the virtual machines top menu bar and select Install Guest Additions. If you get a pop-up about auto-start procedures just cancel it.
Now that the virtual disk is mounted, open a terminal and look for the contents of the disk in the /media folder.
ls /media
In my case, the disk is named VBOXADDITIONS_4.1.10_76795. This name may vary depending on the version of VirtualBox you have installed. Now uninstall the guest additions (don't forget to adjust the path):
sudo sh /media/VBOXADDITIONS_4.1.10_76795/VBoxLinuxAdditions.run uninstall
Windows:
You can uninstall the guest additions just like any other program on a Windows machine: Click on Uninstall a program in the Control Panel and search for the version you installed. Select it and click on the Uninstall button above the program list.
Tuesday, February 14, 2012 posted by CSch
In the time you used your current Windows 7 system you undoubtly have plugged in a lot of different USB devices into your computer, most of them never to be used on it again. You will have notices that for every different device, Windows comes up with a message telling you that it automatically installs all drivers needed to use it.
That is perfectly alright, but what if you won't use the device ever again? The drivers will remain on your hard disk in case you still need it. This is not optimal for two reasons – first: in no time, you will have a massive amount of drivers for different USB devices installed; second: drivers may be out of date the time you use your device again, even if you use it frequently.
Therefore, there is an option to uninstall or update your USB device drivers manually. Open a command prompt by searching for cmd and enter:
set devmgr_show_nonpresent_devices=1
This will set an environmental variable which can also be seen in Control Panel > System and Security > System > Advanced system settings > Environment Variables…. Afterwards, enter
devmgmt.msc
to open the device manager. This can also be done by right clicking Computer and choosing Manage, the device manager will be in the left column.
In the device manager menu, click View and enable Show hidden devices. If you now expand Universal Serial Bus controllers (USB) you will most likely have a bunch of transparent entries, which are all non present and/or hidden devices.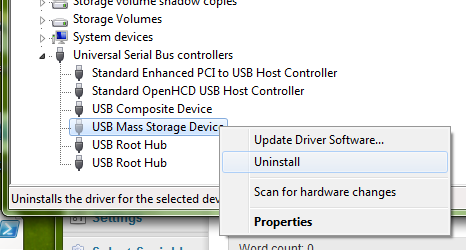 By right-clicking them, you can remove or upgrade their drivers if you need to. This can also be done will any other driver on the device manager and is rather useful for corrupted drivers, is to be handled with care however. If you don't precisely know if you just selected a system component for uninstallment, better don't do it.
Tuesday, January 3, 2012 posted by CSch
The built-in Windows tool to add and remove software is commonly used to install and uninstall software, in most cases an own uninstaller comes with the program. However, this uninstaller usually does its job quite sloppy, since numerous files, folders and/or registry entries are left behind after installation. This can either be wanted, if the left files serve as configuration preservers for the case of reinstallation of the program or, as it is in most cases, is just taken lightly by the programmers, meaning that the left files are actually only data junk never to be used again.
This data junk, if stored in masses, can slow down your computer over time. While the best method to get rid of it is to format your hard drive and reinstall the operating system from time to time, you may have reasons to not do that, but to look for a more immediate way to get rid of or to prevent such installation leftovers.
One way to uninstall software more effectively as with their own uninstaller is doing so with Revo Uninstaller.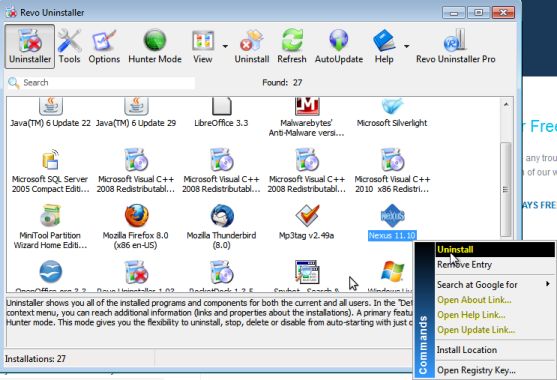 This piece of software provides multiple steps of uninstalling – it first removes the programs with their own uninstaller and then scans the system for the so-called software rot.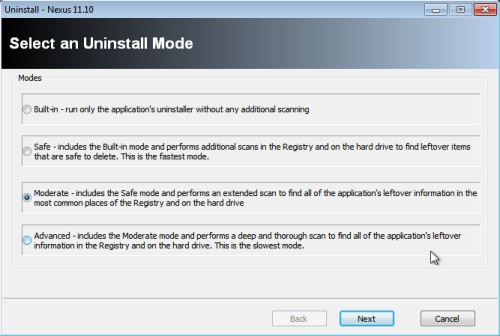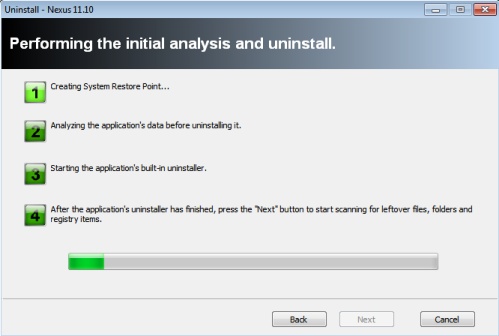 If any leftover files are found, they are shown and you are given the option to delete them seperately. Only delete the files that you are sure you won't need anymore – deleting files you don't know or recognize can cause severe problems.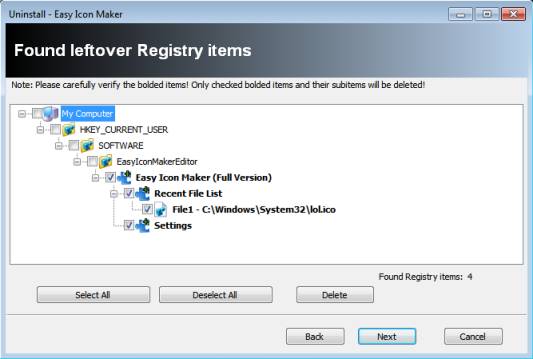 Furthermore, Revo Uninstaller comes with a bunch of useful features as emptying browser caches, deleting temporary files, Windows search queries, several histories and erasing all tracks of deleted files.