FAQforge provides answers for frequently asked questions for the Linux-, MAC and Windows operating systems.
Tuesday, May 29, 2012 - posted by CSch
Grub is the bootloader most Linux operating systems use at the moment – you most likely only interact with it while choosing the operating system you want to use if you are on a multi-boot system. But although you only see it for a short time, why not spice it up a bit? With what we are going to do, we can change font and background color or even use a background picture, change boot order and other handy stuff. You might think about that especially if you don't like Ubuntu's purple background color – so here's how:
To do what we want to, you need the Grub Customizer which is available by ppa. To install it, run the following commands in a terminal:
sudo add-apt-repository ppa:danielrichter2007/grub-customizer
sudo apt-get update
sudo apt-get install grub-customizer
Now open Grub Customizer from a terminal or the menu, go to Preferences and customize your Grub menu to your likings: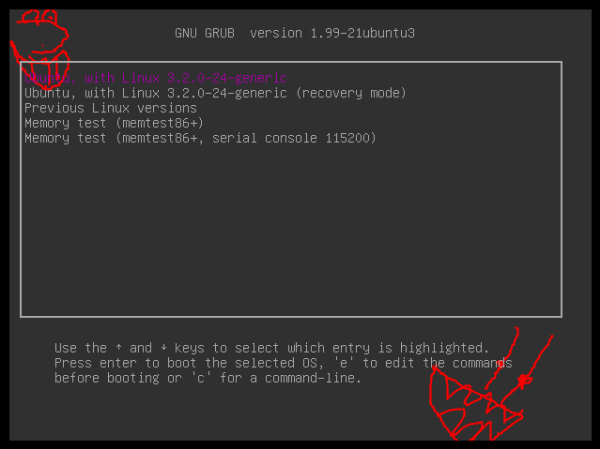 Friday, May 25, 2012 - posted by CSch
Hiding specific files in Ubuntu and Mint is done by placing a dot (.) in front of their name, e.g. renaming the file muh to .muh will mark it as hidden and render it invisible the next time you open its directory (this does not work on the desktop).
To make files hidden without altering their name, create a new document called .hidden in the folder where the files that you want to hide are located. Enter the names of the files into the document, one name per line, then save it. Open the target folder to check if it worked.
To make hidden files visible, simply hit Ctrl + H.
Wednesday, May 23, 2012 - posted by CSch
When important system files break, hardly anything on your machine remains working. Many programs won't be able to start and you will be flooded with error notifications and Bluescreens of Death.
Windows 7 has a function to solve that kind of problem itself. All you will need for the procedure is access to your machine and your Windows 7 installation disk.
1. Enter your Windows 7 DVD into the disk tray. Then run the command line by typing cmd in the main menu. Right-click the application and select Run as administrator to run it with administrative rights (alternatively, you can press Ctrl + Shift + Enter while cmd is highlighted).
2.  Enter following into the console:
sfc /scannow
3. The system scan will be initiated and the broken files will be localized. This can take a few minutes. If broken files are found, they will be replaced by healthy ones from the DVD.
4. Perform a Windows update to make sure the new system files are up to date and reboot afterwards.
Thanks to Alexander Fox for this post!
Tuesday, May 22, 2012 - posted by CSch
Most of the people using Ubuntu or Mint will be using Synaptic Package Manager or Ubuntu Software Center to manage the applications installed on their systems (the former because of its light interface and ability to queue a whole lot of actions, the latter because of the user friendly interface). But while the two do an excellent job at installing, neither of them copes perfectly with removing the packages afterwards (USC does improve on that matter, but is still leaves traces in some situations).
The thing to use here is a simple command line utility to remove unneeded dependencies. Open a terminal and enter:
sudo apt-get autoremove
For more information, enter
man apt-get
Monday, May 21, 2012 - posted by CSch
Google products have the tendancy to not be liked for several reasons, such as installing additional stuff like updaters and managers.
For the popular Google Earth application, there is an alternative, originally developed for the Linux KDE desktop environment, but now available for the major operating systems including Windows and Mac.
Marble lacks the detailed photographic view that Google Earth offers, but includes all regular street maps as well as different other interesting views of the earth, such as night and temperature views.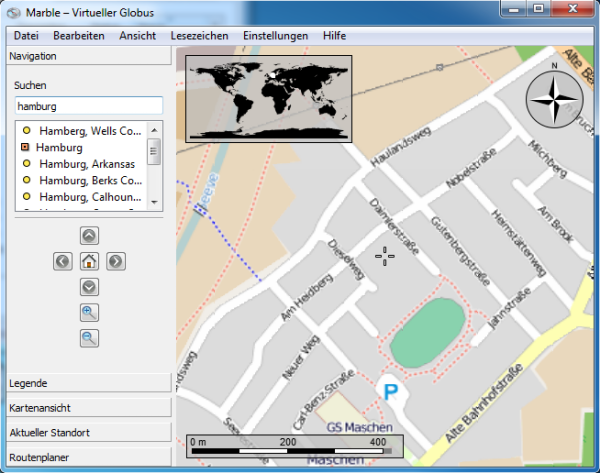 You can download Marble on their homepage: http://edu.kde.org/marble/download.php
Friday, May 18, 2012 - posted by CSch
Ubuntu Unity's dash brings along the power to implement some quite helpful things to make life easier at your computer – these implementations come in the form of lens that use Unity's search bar, such as the Recoll lens.
With Recoll you can perform full-text search in all indexed files on your system – just choose the appropriate lens in the bottom of dash and enter your subject in the search bar: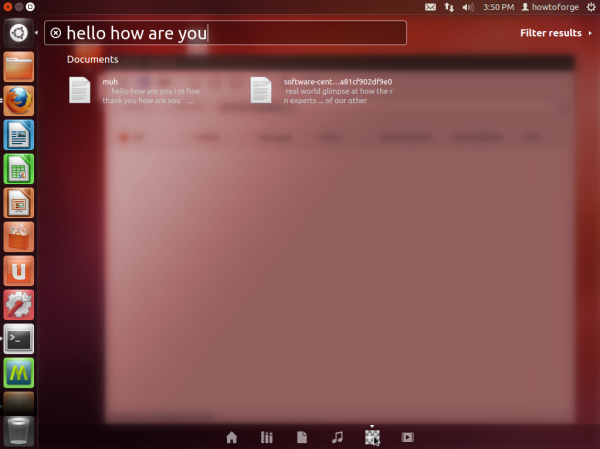 To download Recoll, open a terminal and perform the following steps to add the appropriate repository, update the sources and install it:
sudo add-apt-repository ppa:recoll-backports/recoll-1.15-on
sudo apt-get update
sudo apt-get install recoll-lens recoll
To update your index, just open the Recoll application from dash and choose Update Index from File on the top bar.
Wednesday, May 16, 2012 - posted by CSch
Connecting to servers on Linux requires no additional third party software and can be done via terminal and graphical interface. To do the latter, just open any window manager window and click on File from the menu bar – there, select Connect to Server…: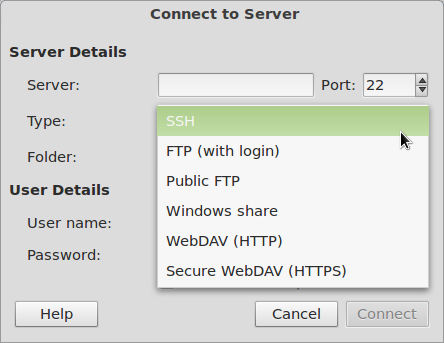 On the appearing window, select the protocol you want to use and provide the server's and your account's data – if you choose to remember the password you enter, you won't need to re-enter it later; it will be stored in your password manager if you have installed any (seahorse is installed by default on Ubuntu and Mint). This is also where you can delete them!
Tuesday, May 15, 2012 - posted by CSch
The programs that are run on system startup are managed in a special application on Linux. Open Startup Applications from the distribution's main menu to find a list of programs already being run everytime you log in – you have the option to enable or disable existing entries, edit or delete them and to create new ones – click on Add to do so.
A new window with three text fields will open:
Name: Enter the name of the entry that will be shown in the previous menu.
Command: Enter the terminal command that launches the program you want to start – to see if you got the correct one, test it in a terminal (e.g. firefox, nautilus). If you want to start a program with root privileges, append the gksu string before the program's name (e.g. gksu nautilus).
Comment: Enter the comment that will be shown below the name in the previous menu.
Click on Add afterwards and close the startup applications window. Reboot your machine to test the configuration.
Monday, May 14, 2012 - posted by CSch
Mindmaps always come in handy when it comes to planning stuff or just brainstorming: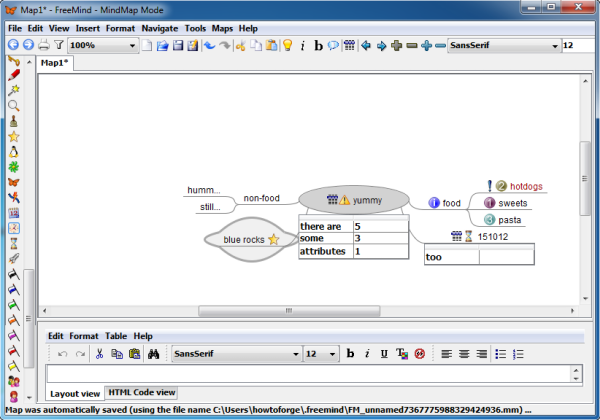 To not waste tons of paper and being able to dynamically re-arrange and rename items, it is always good to have a digital solution for such things – in this case, there is Freemind, a freeware for creating simple mindmaps, downloadable here.
At least Java version 1.4 is needed to run Freemind.
You can drag the children anywhere you want and reorder everything after creating it. Every item can be assigned multiple icons, attributes and differently formatted path and/or bubble designs.
Friday, May 11, 2012 - posted by CSch
By ticking the Auto-hide the taskbar checkbox in the taskbar properties you can make the taskbar hide itself if you don't hover your mouse over it's position – this gives you a bit of extra space, especially for wide screens.
One problem you might have though is that the slide animation is quite slow and there is no registry key for speeding things up. One thing you can do however is to switch off the animation completely so that the menu hides and reappears instantly. To do so,
- go to Control Panel > System and Security > System > Advanced System Settings > Advanced (tab) > Performance Settings… > Visual Effects (tab)
- Uncheck Fade or slide menus into view
- Apply changes