FAQforge provides answers for frequently asked questions for the Linux-, MAC and Windows operating systems.
Friday, August 22, 2014 - posted by admin
Here is a list of ports that are used commonly on ISPConfig 3 servers. If you dont have all services installed or if you e.g. dont want to connect to MySQL from external servers, then close the unused or unwanted ports.
TCP ports
20 - FTP Data
21 - FTP Command
22 - SSH
25 - Email
53 - DNS
80 - HTTP (Webserver)
110 - POP3 (Email)
143 -Imap (Email)
443 - HTTPS (Secure webserver)
993 - IMAPS (Secure Imap)
995 - POP3S (Secure POP§)
3306 - MySQL Database server
8080 - ISPConfig web interface
8081- ISPConfig apps vhost
UDP ports
53 - DNS
3306 - MySQL
Monday, August 11, 2014 - posted by admin
The Following command can be used to check and repair all MySQL databases on a Ubuntu or Debian Linux System.
Ubuntu Linux
sudo mysqlcheck --defaults-file=/etc/mysql/debian.cnf --auto-repair --optimize --all-databases
Debian Linux
mysqlcheck --defaults-file=/etc/mysql/debian.cnf --auto-repair --optimize --all-databases
The benefot of the above comand is that it uses the debian-sys-maint login to MySQL which is available on every Debian and Ubuntu System, so you dont have to provide the MySQL root login details.
Friday, August 8, 2014 - posted by admin
To disable the error.log for a website in ISPConfig on a Apache webserver, follow this steps:
1) Login to ISPConfig
2) Go to the website settings of the website were you like to disable the error.log and there go to the "Options tab"
3) Add the following line in the field labeled "Apache Directives"
ErrorLog /dev/null
and press save:
Saturday, July 19, 2014 - posted by Till
1.1 SCP Command Line-An Overview
The SCP command line is commonly used to copy files over SSH, and between popular Operating systems like Linux, Mac and Windows in a secure fashion. SCP is used to copy files to/from a remote server. It also allows you to copy files from one remote server to another remote server, without passing traffic through your PC.
Wednesday, February 5, 2014 - posted by admin
When you get the error message "system-config-firewall: command not found" on your CentOS Server while trying to configure the firewall on the shell, then the text interface version of the firewall configuration utility is missing. Install it with this command:
yum install system-config-firewall-tui
Tuesday, February 4, 2014 - posted by admin
If your mail server stops working (neither incoming nor outgoing email works) and you find the following error message in the mail.log file:
fatal: open database /var/lib/postfix/smtpd_scache.db: File exists

then the smtpd_scache.db might got corrupted. Postfix will recreate this file, if it does not exist. So it can be removed to solve the issue:
/etc/init.d/postfix stop
rm -f /var/lib/postfix/smtpd_scache.db
/etc/init.d/postfix start
Thanks to Alexander Fox for sending me this FAQ.
Monday, October 7, 2013 - posted by CSch
To enable virtualization on a machine with a Z77X-UDH3 motherboard run the BIOS by hitting Del while booting the computer.
Once inside click on the BIOS Features tab and look for the Intel Virtualization Technology entry. If it's set on Disabled, set it on Enabled. Afterwards save the changes made to your settings and quit the BIOS using the last tab from the main tab-line.
Thursday, October 3, 2013 - posted by CSch
In some cases when you try to get a virtual machine running with Virtualbox or similar virtualization software you will get an error stating that 'VT-X is not available'. This relates to BIOS settings which, depending on your processor, determine whether your computer is able to virtualize stuff. These settings are not set automatically however, so it's worth a look into your BIOS whether you can actually change the setting and if your processor allows it.
The keyword to look for in the settings is 'Virtualization', it's probably placed in some advanced tab if there are some of those in your BIOS.
To see how it's done with a Z77X-UDH3 motherboard by Gigabyte see this post: Gigabyte Z77X-UDH3
Sunday, September 22, 2013 - posted by CSch
While SkyDrive needed complex folder mapping to be accessed from your computer's file system in the past it is now possible to download a desktop app from the Microsoft website: http://windows.microsoft.com/en-us/skydrive/download
Scroll down and click the Download the desktop app button to start downlowding. Install it afterwards by double-clicking the executable: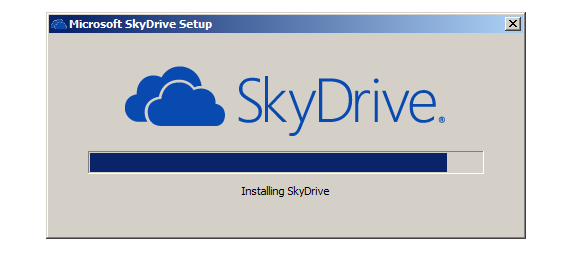 After the installation your SkyDrive folder will be placed in your User's folder by default: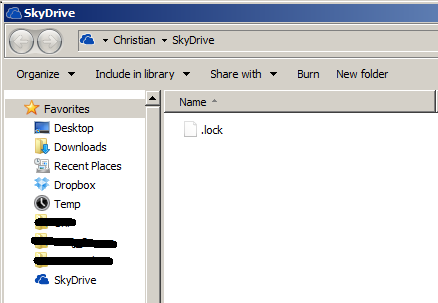 Monday, September 2, 2013 - posted by admin
Dovecot is watching the whole server filesystem for modifications and removed or added sub filesystems. If you get errors similar to this one on your server:
Aug 30 09:10:23 server1 dovecot: master: Warning: /var/www/clients/client1/web1/log is no longer mounted. If this is intentional, remove it with doveadm mount
 (the directory path may vary), then you can fix it by excluding the path from being watched by dovecot. In my case, dovecot shall not watch my website directories as they do not contain any mailboxes
Run the following command on the shell as root user:
doveadm mount add '/var/www/*' ignore
To exclude all files and folders in /var/www from deovecot monitoring.