Your files are saved in the Download folder by default in the Google Chrome browser. If you want your Google Chrome browser to always ask for your location before downloading and storing a file, follow this simple guide:
1. Click on three dots located on the top right corner, a menu will pop up.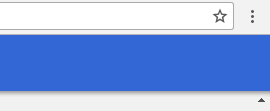 2. Click on Settings and then Advanced.
3. Under the Downloads section, locate 'Ask where to save each file before downloading'. Drag the button to right.
Restart the browser.
That's it.