Posts Tagged 'fullscreen'
Sunday, January 6, 2013 posted by CSch
Windows 8 has set some file types to open in full screen Metro applications which can be really annoying, especially if you just wanted to have a quick look at a photo or something. To stop this, you can determine certain applications to open all types of files they are able to open (e.g. Windows Photo Viewer for picture files - jpg, png, etc.).
To do so, hover your mouse over the top right corner to open the Charms menu and open the Search charm. Enter default programs into the search bar and open the search result with the same name. In the appearing window, click on Set your default programs (the first menu option).
In the new window, select one of the programs on the left that you want to use as general default options for pictures, videos, music or another type of files and click on Set this program as default afterwards: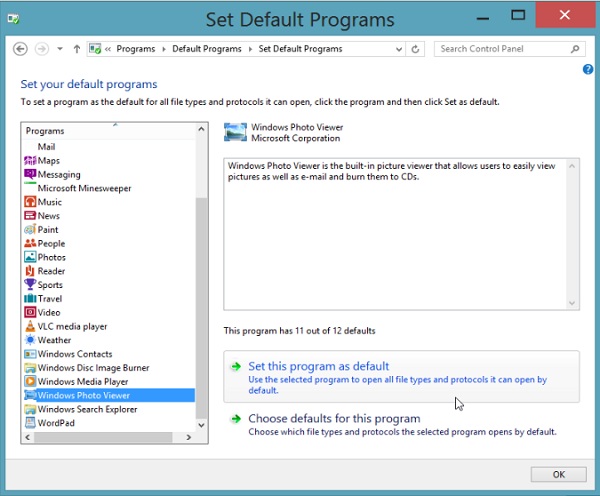 Your files will now be opened in comfortable window applications!
Thursday, December 13, 2012 posted by CSch
Along with all the other applications, games on Windows have been turned into Metro apps that can be downloaded from the App Store. The simple consequences are that
1. you need to play them full-screen and
2. you need to download them before being able to play them.
To download them, turn up the Metro menu and go to the Store. All games, including the classics, are found in the Games section: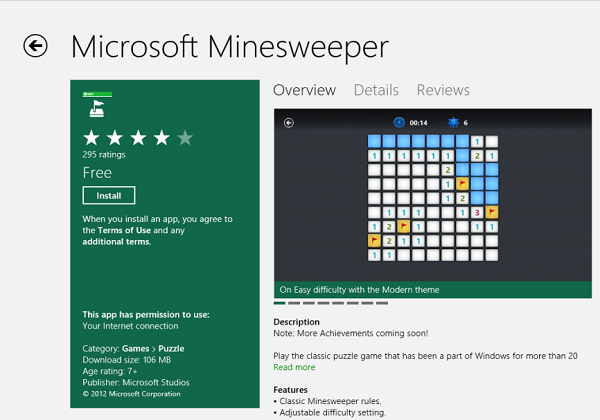 After they have been installed you will find them in the XBox Games section of the Metro menu!