Posts Tagged 'faster'
Monday, December 5, 2011 posted by CSch
To boot your Windows machine faster, it is possible to disable the graphical user interface used during system start-up (the Windows logo loading screen). To accomplish that, hit Windows key + R on your desktop to call a Run prompt and enter msconfig. On the appearing window, go to the Boot tab and activate the No GUI boot checkbox. Hit Apply and/or OK and reboot the machine afterwards for the changes to take effect.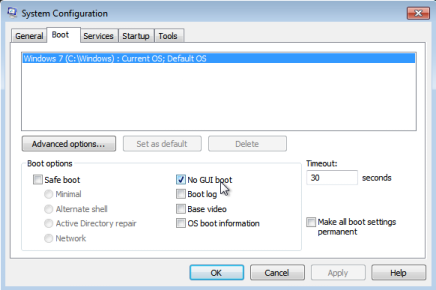 Monday, October 24, 2011 posted by CSch
There is a simple registry option in the Windows XP Registry that, if not altered, adds a delay time to the the XP boot process. However you can easily set this delay time to zero if you know where to look for it: Open the Windows Registry by entering regedit into a Run… prompt. The registry is parted in two frames, the one on the left containing a large list of keys and sub-keys, the one on the right displaying the keys' values. In the list of keys, browse the following:
HKEY_LOCAL_MACHINE\SYSTEM\CurrentControlSet\Control\ContentIndex
Left-click the ContentIndex-key to see its values, look for StartupDelay and double-click to modify it.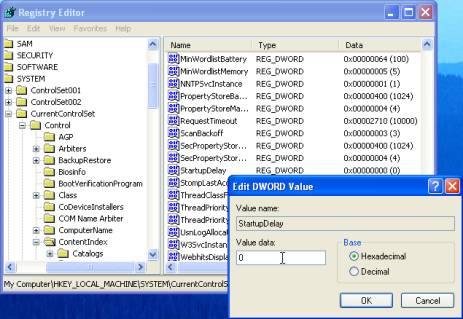 The default value is the hexadecimal number 75300, which is the decimal number 480000. Leave the hexadecimal button active and just change the value to 0 (you can also pick another value; to see which hexadecimal value you have to take for a decimal number, just switch to decimal, enter the value and switch back again).
After making this change, close the registry and reboot Windows to see how fast it has become.
Monday, October 10, 2011 posted by CSch
If you install multiple operating systems on one machine, usually you are shown a screen on startup where you are asked to choose the operating system you would like to use. If you do not push a key on that screen, the default OS will be booted after 30 seconds (sometimes it is 28 or 27 that are displayed). Now I find that this is a pretty long time since you usually know what operating system you would like to use, plus, this screen may also occur after a simple reinstallation of windows in some cases and thus is really annoying since it lengthens your boot time for a good 30 seconds if you are not present to hit the return key. However there is an option to shorten this time in the Windows Control Panel.
To access it, browse start > Control Panel > Performance and Maintenance > System. Open the Advanced tab and click on Settings in the Startup and Recovery field.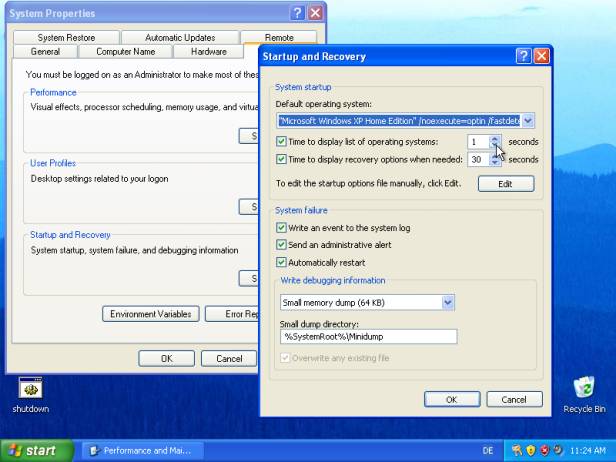 To alter the time to wait, change the value of Time to display list of operating systems. Click on OK on every window you opened and the time should now be applied to our settings!