The past versions of Firefox brought a feature to it that a great deal of users didn't like because it changed the way tabs are handled in a window. Instead of just showing all tabs at once, Firefox now adds horizontal scrolling to the tab bar in order to prevent the tabs from becoming too small to read its name. That way you can always see what's on your tabs but don't have a complete overview of the whole bar anymore.
In order to help out on that an add-on was created that increases the number of tabs that are visible before the overflow scrolling occurs.
It's called Prevent Tab Overflow and you can find it in the Firefox Add-On database: https://addons.mozilla.org/en-US/firefox/addon/noverflow/
Add it and it will get to work instantly. Have a look at the Add-on preferences (Tools>Add-ons>Extensions>Prevent Tab Overflow>Preferences) to see what you can actually do: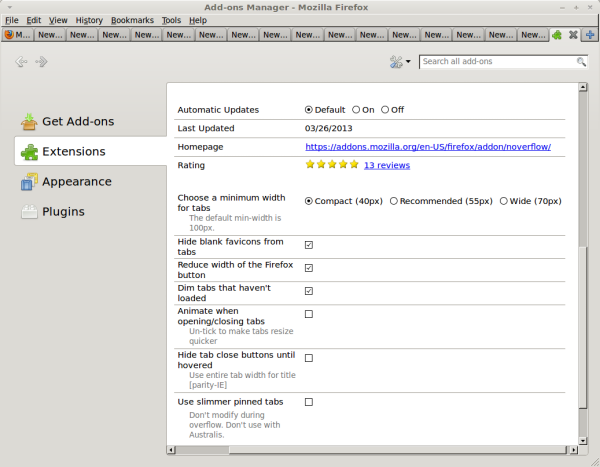 While the add-on cannot prevent tab overflow as whole, it can resize the minimum tab width down to 40 pixel (the default in Firefox is 100 pixel). A lot more tabs fit in that way and the scrolling kicks in on a point where it actually makes sense not to shrink the tabs any further.