Posts Tagged 'tabs'
Thursday, August 2, 2012 posted by CSch
The newest versions of Firefox use a different default handling tabs in a newly started instance of Firefox – while earlier versions loaded all tabs at once, newer versions only load the active tabs. This is supposed to save loading time, but can be annoying if some of your tabs need an update to indicate new messages, such as twitter, and you forget to load it – the status of the tab won't change at all until you click it once.
If you prefer the old default that loads all tabs at once, you can reset it in the Firefox preferences. To get there,
- open the Firefox menu and select Options > Options. This will open the preferences window.
- On the General tab, select Show my windows and tabs from last time from the When Firefox starts drop down menu under Startup.
- Then uncheck the Don't load tabs until selected checkbox.
- Accept the changes by clicking OK.

Wednesday, February 29, 2012 posted by CSch
Apart from the usual Bookmarks and Bookmarks Toolbar, the SpeedDial screen introduced a great visual option for quick access to your most commonly used websites. It currently is the main new-window-replacement on the Opera browser and can be downloaded as an add-on for Firefox.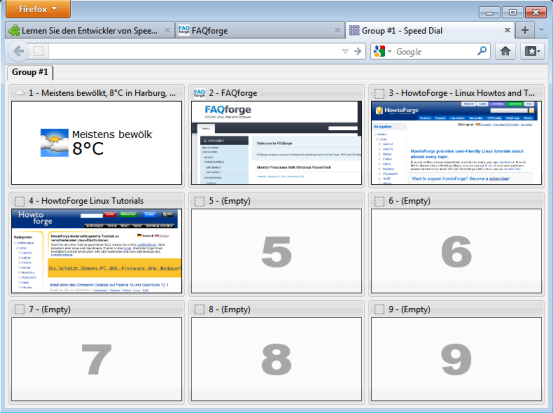 It can be downloaded on the Mozilla Firefox add-on page here: https://addons.mozilla.org/en-US/firefox/addon/speed-dial/
The screen is highly configurable in terms of when to show up, which actions to perform on click and keyboard input, largeness of panels, number of panels etc. You can also put them together to groups which are then displayed as tabs in a seperate group bar.
Thursday, November 10, 2011 posted by CSch
From version 4 on, FireFox has disabled the option to save tabs when you leave the browser and left us with the Restore Session option on program start. To enable the option to save tabs again, direct FireFox to about:config and accept the prompt. In the filter bar, enter browser.showquitwarning and double-click the value to toggle it to true. Firefox will now ask you if you want to save your tabs again: