Posts Tagged 'not'
Monday, December 24, 2012 posted by CSch
If you want to further reduce the time it takes your Windows 8 system to boot one of the most efficient options will be to automate the login process - this saves you the time you usually spend on wiping away the lock screen and entering your password.
Be careful though! Not having to enter the password at startup leaves your machine vulnerable to direct access by strangers. This should not be done to portable or public machines!
If you choose to do so anyway you need to edit the User Account settings - the fastest way to get there is to point your cursor to the bottom left corner of the screen, right-click and open a Run prompt. Enter netplwiz into it: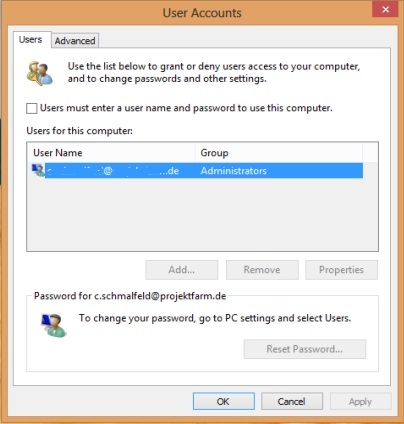 First off select the user you want to log in with automatically - then remove the Users must enter a user name and password to use this computer checkbox and apply. You'll be prompted for the account's password, so enter it and confirm once.
Afterwards, the machine will log into the account automatically!
Wednesday, February 15, 2012 posted by CSch
By working with different drives it sometimes may occur that two drives are given the same drive letter - usually this is not the case but it may always happen due to bugs. It is also possible that a drive loses its letter "spontaneously". What results is that one or both of them is/are not shown on Computer anymore. To resolve this error, a new letter has to be assigned to the drive with the help of the Disk Management. Right-click Computer and choose Manage. On the left pane, select Storage > Disk Management and you will see the connected drives listed in the main screen.
To change or assign a drive letter, right-click target drive and select Change Drive Letter and Paths.... On the window that pops up choose Add... or Change.... Afterwards select a new drive letter from the drop-down menu: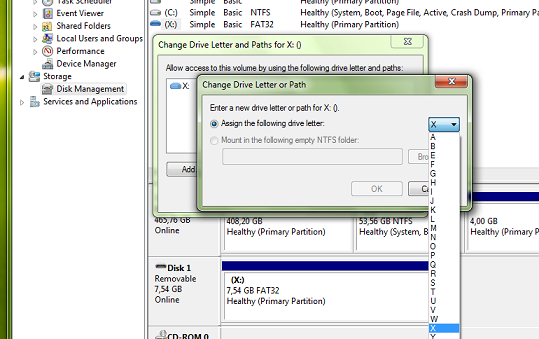 Remember that you choose a letter that is not already used by another drive - to ensure that, choose one on the end of the alphabet. Your computer won't have had the chance to fill all the letters up to there already. Usually it should not be possible to choose a letter that is already in use anyway, but it is good to always double-check things like these if the above error should occur.