Posts Tagged 'cd'
Monday, July 23, 2012 posted by CSch
If you are one of those who like to deal with inserted DVDs, USB keys and other removable media yourself, the Autoplay feature of Windows will most likely do nothing but being clicked away by you.
If you want to save yourself a pop-up and a click you can disable Autoplay. To do so, open the menu and type in gpedit.msc. The group policies window will open and you'll see a navigation pane on its left. Browse it for
Local Computer Policy > User/Computer Configuration > Administrative Templates > Windows Components > AutoPlay Policies
Pick User or Computer Configuration depending on the range you want your settings to have. On the right pane, there should now be some settings, on of them being Turn off AutoPlay. DOuble-click it for the configuration window to open.
On the left, click the Enabled radio button. On the options pane you can choose between turning AutoPlay off for all media or just for CDs or removable media drives (since those are the most common I'd recommend to choose that). When you're done, click Apply and exit the group policies. Next time you insert something you won't be bothered with pop-ups.
Tuesday, June 5, 2012 posted by CSch
Where you need third party programs to create iso images on Windows, you can do this with a single cat command on Linux operating systems. Open a terminal and find out the name of your disk drive, which is located in /dev:
find /dev/*cd*
/dev/cdrom
/dev/cdrw
/dev/scd0
The file named scd0 or similar is your drive. Now enter following to create an image (I'll create it on my desktop – replace my username with yours):
cat /dev/scd0 > /home/christian/someubuntu.iso
Wednesday, March 28, 2012 posted by CSch
Resetting your systems root password may be a necessary step if you have forgotten it or have bought a used computer which you don't want to setup anew. Doing so without any installation medium saves you a blank CD and a bit of time.
To start, restart your computer and get to the GRUB menu by pressing Shift while booting. Point your cursor to the Recovery mode option: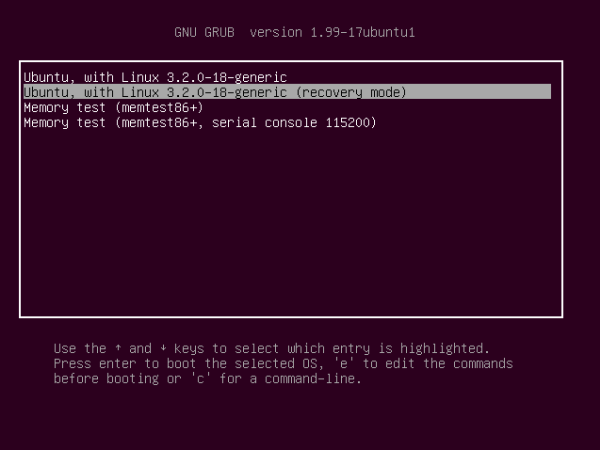 Press e to edit the boot options. There, look for a line that looks like this: linux /boot/vmlinuz-3.2.0-18-generic root=UUID=b8b64ed1-ae94-43c6-92\d2-a19dfd9a727e ro recovery nomodeset: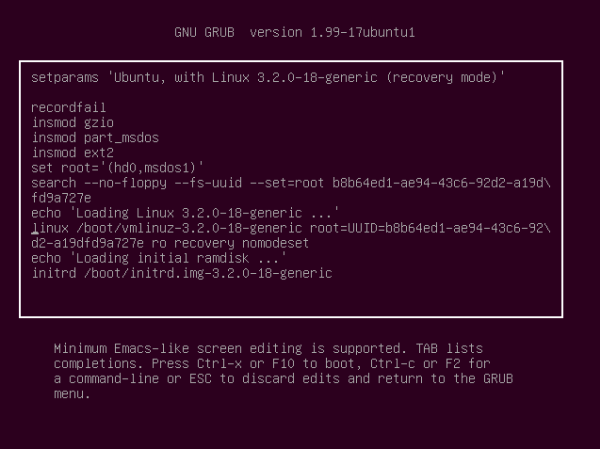 The line will differ depending on your version and kernel but should have about the same syntax. Remove the last part of line which is ro recovery nomodeset and replace it with rw init=/bin/bash: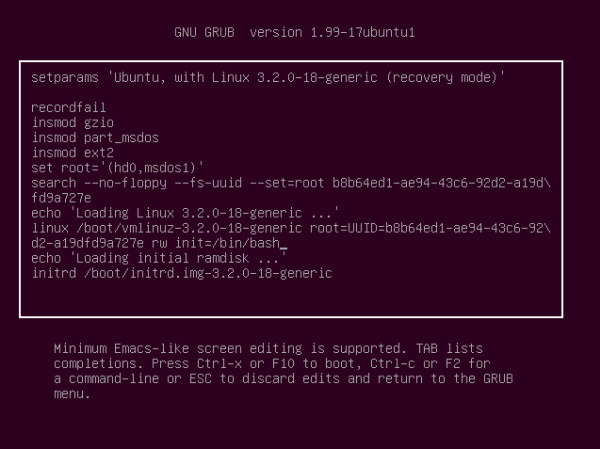 This will cause a command line to be opened on startup. Press F10 now to reboot the machine and get to the command line. Once you are there, enter:
/usr/sbin/usermod -p '!' root
(If you get an error by copying and pasting above command, try replacing the quotation marks.) Now reboot the machine and the root password should be reset. The changes you did to the boot options will also reset automatically, so you do not have to change them back.