FAQforge provides answers for frequently asked questions for the Linux-, MAC and Windows operating systems.
Monday, April 8, 2013 - posted by CSch
The screen-keyboard is a useful Windows feature on some occasions, e.g if you want to find out if it's the new keyboard's drivers that suddenly make your machine crash, or when you just need to unplug your keyboard for other reasons.
However it can happen that, if you turn on the screen-keyboard a few times on the login screen, it will stick to the desktop and open up every time you log in (be it a bug or adapted behavior). This is annoying if you just unplugged your keyboard to test stuff.
But fortunately we can turn that behavior off easily in the Control Panel:
Open it up and go to the Ease of Access section. Under Explore all settings, click on Use the computer without a mouse or keyboard: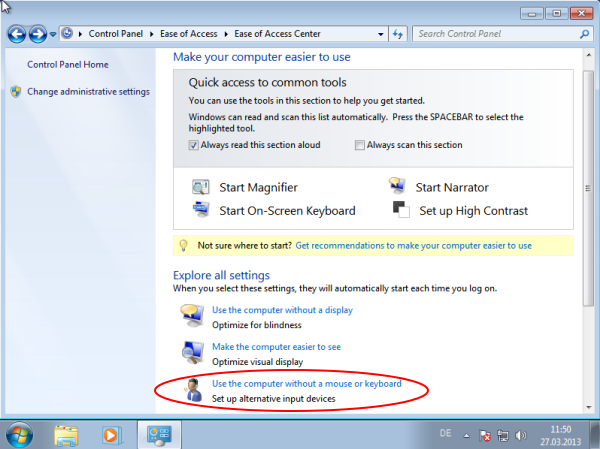 Now uncheck the Use On-Screen Keyboard check-box under Type using a pointing device: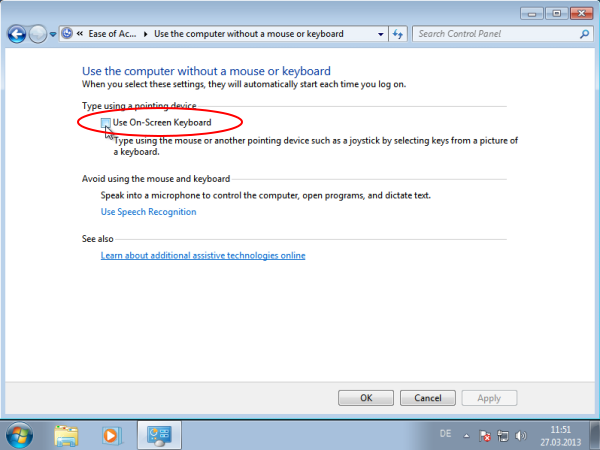 Click OK to save the settings and you're done!
Wednesday, April 3, 2013 - posted by CSch
Taking ownership of files in Windows is necessary to edit or delete system or program files that you have no access to by default. There are multiple ways to achieve that goal, like doing everything manually through the Properties menu, applying a registry tweak or, as described here, executing a command in the Command Prompt. Note that taking ownership will not let you edit every system file. Windows has set precautions so that you don't edit any of the most important files which may be helpful in some cases but can be really, really annoying in other.
To start off, you need an elevated command prompt which is simply a command prompt opened as administrator. In Windows 8 you can open that by right-clicking the bottom left corner of the screen and selecting Command Prompt (Admin). In Windows 7 and previous, search the main menu for cmd, right-click it and select Open as administrator.
You need two commands now: one to actually take ownership of the file or folder and one to grant yourself access rights. These are the two commands you will want to use:
For folders, use:
takeown /f folder_name /r /d y
icacls folder_name /grant username_or_usergroup:F /t /q
For files, use:
takeown /f file_name /d y
icacls file_name /grant username_or_usergroup:F /q
The commands basically only differ in a few switches that make the folder procession run recursively. If you want to edit only one folder instead of the whole recursive lot, remove the /r and /t switches from the commands. For more info on the commands, simply enter takeown /? or icacls /? into the command prompt.
If I wanted to take control of my Program Files folder, I'd need to enter the following:
takeown /f "C:\Program Files" /r /d y
icacls "C:\Program Files" /grant christian:F /t /q
Thursday, March 28, 2013 - posted by CSch
The past versions of Firefox brought a feature to it that a great deal of users didn't like because it changed the way tabs are handled in a window. Instead of just showing all tabs at once, Firefox now adds horizontal scrolling to the tab bar in order to prevent the tabs from becoming too small to read its name. That way you can always see what's on your tabs but don't have a complete overview of the whole bar anymore.
In order to help out on that an add-on was created that increases the number of tabs that are visible before the overflow scrolling occurs.
It's called Prevent Tab Overflow and you can find it in the Firefox Add-On database: https://addons.mozilla.org/en-US/firefox/addon/noverflow/
Add it and it will get to work instantly. Have a look at the Add-on preferences (Tools>Add-ons>Extensions>Prevent Tab Overflow>Preferences) to see what you can actually do:
While the add-on cannot prevent tab overflow as whole, it can resize the minimum tab width down to 40 pixel (the default in Firefox is 100 pixel). A lot more tabs fit in that way and the scrolling kicks in on a point where it actually makes sense not to shrink the tabs any further.
Wednesday, March 27, 2013 - posted by CSch
Windows takes a nice precaution for us when it comes to installing a clean Windows system on a hard drive or partition that already has a version of Windows installed: If you forgot to backup files from your old installation but already have the fresh one installed you still have a way of getting what you want:
When installing Windows onto an already existing Windows, most of the old files are stuffed into a folder called windows.old which is placed on your newly formated C:\ drive. That folder contains the most important data from your previous installation, which is the Users folder as well as the Windows and Program Files folders. This way, you have an automatic backup of your files that you can get back to if you forget to backup yourself.
Now there is one downside to this procedure: the folders that are backed up tend to get very large. They can take up several gigabyte of data, depending on how large your folders were. So if you don't actually need that backup, why keep it?
All of you who have ever tried to delete Windows system files will already see where this is going: part of the windows.old folders are old system files and Windows still recognizes them as those. But Windows actually has a neat little trick to delete them anyway!
Open up the Control Panel and head to the System and Security section. Now click on Free up disk space under Administrative Tools:

A window comes up that is usually used to cleanup temporary files and stuff. But we need to clean up system files, so click on the appropriate button in the Description panel: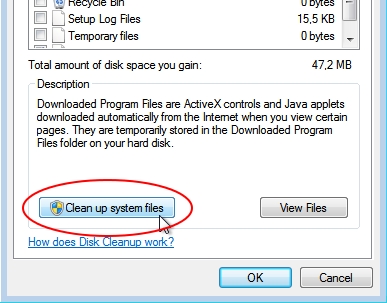 A similar window will upon but this time we'll have different cleanup options. Previous Windows installation(s) is the one that we want to remove: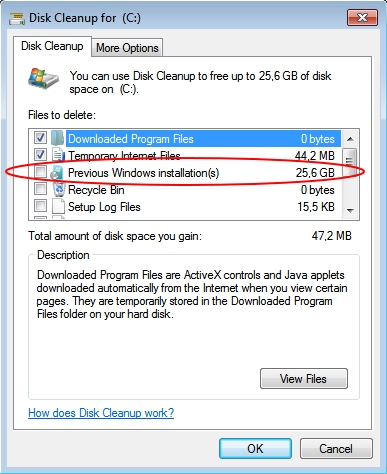 As you see it is 25 GB large on my machine which is a lot of space for files i don't need anymore. That's why, after we have double-checked if we really, really don't need them, we check the box next to it and click on the OK button. Confirm by clicking Delete Files on the next window and you are good to go with a whole lot of free space.
Tuesday, March 26, 2013 - posted by CSch
The library folders where your documents, music, videos, contacts, etc are stored in are located in the users' folders by default. This is fine as long as you have everything on your computer on just one partition, but it may be helpful to relocate those libraries if you want to split your operating system from your data files on a separate partition because these folders tend to become the largest on the average home computer.
Before you start moving, you need to create new folders that will be used as libraries later on. Go to the location where you want to move your libraries to and create folders to replace the old ones (Desktop, Downloads, Favorites, Links, My Music etc.).
Now to get going, open your user folder, in my case that's C:\Users\christian. This is where the library targets are that you want to move. Start with any of them and right-click it, then click on Properties. On the Location tab, you'll see the path to the folder that the library is using right now, which points to our Users folder:

Click on Move... and a folder browser appears. Browse the corresponding folder that you have just created and click Select Folder. Now click Apply - if you had files in your old library target, it is recommended to move them to the new folder; Windows will do this automatically upon clicking Yes on the appearing prompt:

Saturday, March 16, 2013 - posted by CSch
With Steam support for Linux, there will most likely be a whole lot more games coming out for Ubuntu and its consorts. While the database of games with Linux support still grows, many titles are already available.
To install Steam on Ubuntu or Linux Mint, open a Terminal and enter the following commands:
sudo apt-key adv --keyserver keyserver.ubuntu.com --recv-keys B05498B7
sudo sh -c 'echo "deb http://repo.steampowered.com/steam/ precise steam" >>
/etc/apt/sources.list.d/steam.list'
sudo apt-get update
sudo apt-get install steam
Afterwards start it with
steam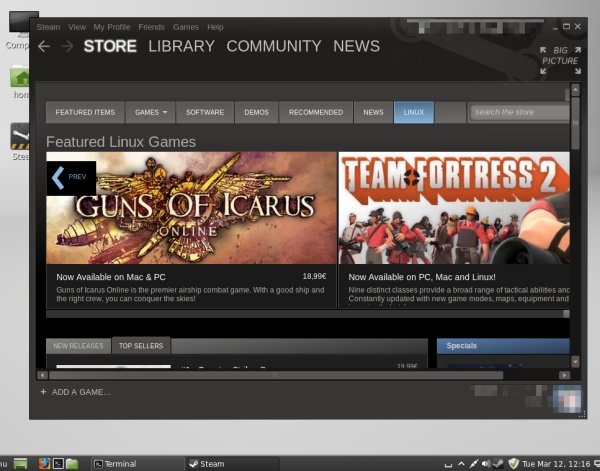 Thursday, March 14, 2013 - posted by CSch
Surely you have witnessed this feature on a Linux system before: with a simple key combination the user is able to switch between multiple instances of the same desktop to reduce the clutter that you get when you open everything on just one desktop. That way, you can have your mail client open on one desktop, switch to another to surf the web and to another one to chat with your pals.
This feature is also accessible on any version of Windows and the only thing we need for that is a little tool that comes with Microsoft's SysInternals Suite which is a package downloadable directly from their website filled with handy executables, most of them used to troubleshoot problems on your computer.
You can download the SysInternals Suite here: http://technet.microsoft.com/en-US/sysinternals/bb842062.aspx
After you have acquired it, start the program called Desktops that came with it. There, you can define the key combination that switches between the different desktops - of course you can also do that manually with the help of the tray icon. You can also set it to launch on system start-up which you should do if you are planning on using it regularly.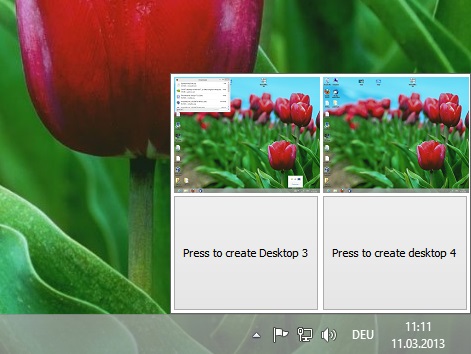 Desktop is also compatible with the new Windows 8 user interface. One desktop is unaffected by another one with the Windows 8 UI open.
Tuesday, March 12, 2013 - posted by CSch
This error usually comes up when you try to start a new service that would get the same service ID as another service in the process:
System error 1290 has occurred.
The service start failed since one or more services in the same process have an incompatible service SID type setting. A service with restricted service SID type can only coexist in the same process with other services with a restricted SID type. If the service SID type for this service was just configured, the hosting process must be restarted in order to start this service.
It can be circumvented by giving the new service its own process. To do that, open a new command prompt as administrator and enter the following (replace [command] with the command's identifier):
sc config [command] type= own
For example, if you want to start the w32time command, enter:
sc config w32time type= own
Monday, March 11, 2013 - posted by CSch
If you did not yet notice: There is a new feature in Windows 8 concerning disk images. Instead of using third-party software for it, you can now mount .iso files and more with a native Mount function. To access it, just right-click the image file in an explorer window and select Mount - or left-click the image and get there via the ribbon menu: after clicking it, select Manage from the Disc image tools menu point and click on Mount.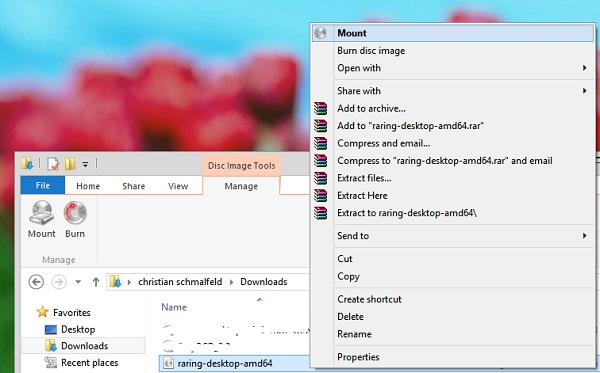 The disk image will then be mounted in a virtual disk drive (which will also be listed under My Computer) and you will be able to see all of its contents. To unmount the virtual drive again you can either do it with the ribbon menu just as before or just do it as you do for any other drive by right-clicking the drive and selecting Eject.