FAQforge provides answers for frequently asked questions for the Linux-, MAC and Windows operating systems.
Thursday, July 25, 2013 - posted by CSch
Error 0x80070052 is one that appears upon copying stuff onto removable drives - at some point, no new files and folders can be created on the drive as well as be copied onto it. That problem is due to restrictions of the format the drive is using - different formats have a different number of files and folders that can be placed in the root directory of a drive (meaning the drive itself, not any sub-folders) no matter how large they are.
So to get rid of the error put all of the files on the root directory into sub-folders. If you need space to create those, delete some data temporarily. The drive should be back to normal afterwards!
Wednesday, July 24, 2013 - posted by CSch
When you enter a home network with a device for the first time you will be asked what data you want to share with that network. If your thoughts on that matter have changed since then and you want to add or remove data to the list of shared types open the Control Panel.
Under Network and Internet, click on Choose homegroup and sharing options.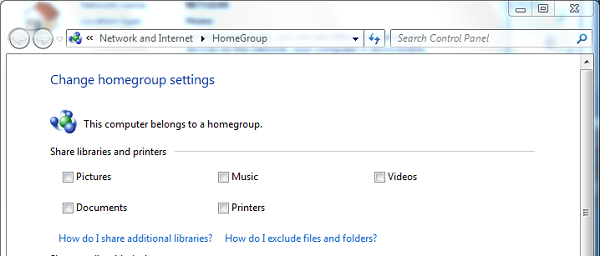 Now you can check or uncheck the components you want to change. Afterwards, click on the Save changes button.
Tuesday, July 23, 2013 - posted by CSch
Windows' command line tool only remembers 300 lines by default - this can be a nuisance especially if you are working with long list outputs. However you can easily increase the number of lines that are shown.
Open a cmd window, right-click the title-bar and select Properties. Go to the Layout tab and under Screen Buffer Size set the Height attribute to the desired value of lines: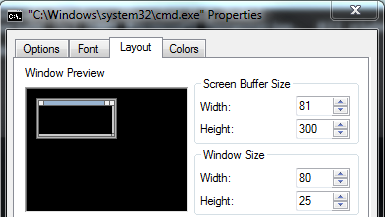 Monday, July 22, 2013 - posted by CSch
To retrieve the MAC-address of a networking device on a Windows machine you can enter one of two commands into the command line tool. To open a command line search for cmd in the main menu. After wards enter either
getmac
or
ipconfig /all
The line called Physical Address indicates your MAC address.
Saturday, July 13, 2013 - posted by CSch
Every service you install is usually run on system startup. Sometimes these services do so without asking you before and sometimes they might even be malicious or just too heavy in resources. To select specific services that shall not be started by boot, open msconfig by calling a Run prompt through the main menu and entering msconfig.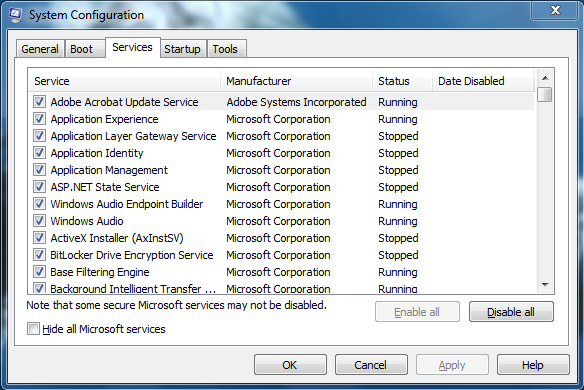 Switch to the Services tab and uncheck any services you don't want to start anymore, afterwards click Apply and restart your machine.
Thursday, July 4, 2013 - posted by CSch
On a normal Windows boot the operating system loads all the programs and services that are configured to run on system startup. If your machine is haunted by a worm though it might be helpful to boot it with only the basic Windows services running - that is called a Diagnostic boot.
To get going, open a Run prompt by searching for run in the main menu. Enter msconfig. The following window should pop up:

Selective startup should be the one that's ticked. Check Diagnostic startup instead and confirm by clicking OK. To undo the changes, just repeat the steps and check the item that was selected in the beginning.
Wednesday, July 3, 2013 - posted by CSch
It can be annoying if your audio player has an over-all quieter sound than Windows and other applications, so their sound always overtune whenever you're listening to music. To raise the volume of Winamp alone without meddling with any Windows settings you can use the built-in equalizer which has a pre-amp setting.
To get there go to View > Equalizer:

Turn the slider on the far left side up to the top and click On.
Thursday, June 27, 2013 - posted by CSch
When there are new updates available for your installation of Windows 7 or 8, it prompts you with a Window asking you to either restart the computer or to postpone the installation for 10 minutes, one hour or four hours. Either option may not be the best sometimes, so why not postpone it by a full day in the first place? To achieve that, open the Local Group Policy Editor by searching for group policy in Windows' main menu.
In the left pane, navigate to Local Computer Policy > Computer Configuration > Administrative Templates > Windows Components > Windows Update. Click it once and select Re-prompt for restart with scheduled installations. Double-click it and check the Enabled checkbox. Now a counterbox becomes available on which you can specify a number of minutes, enter 1440 for a whole day, then apply the changes.
Wednesday, June 19, 2013 - posted by CSch
From time to time you may experience problems with the execution of the Java plugin in the Opera browser. This happens because its path is not correctly configured in the options.
To resolve the issue, open an Opera browser window and enter
opera:config#UserPrefs|PluginPath
into the URL bar. There should already be one path in the Plugin Path line. Enter a semicolon and add an additional path to the line. On a default Windows 7 and 8 installation, the Java plugin path should be
C:\Program Files\Java\jre7\bin\plugin2
depending on your version of Java. Afterwards, scroll all the way down and save. Restart the browser the the issues should be solved.
Thursday, June 6, 2013 - posted by CSch
Even Windows' wonderful plug-and-play feature lets us down sometimes. It might happen that a device you connected to your machine, be it by port or wireless, is not recognized by Windows and thus cannot be installed.
A common reason for that to happen with wireless devices is that Windows already tried to install the device once but failed for unknown reasons. The device will stay unknown and is not tried to be installed any more, no matter how often you reconnect it.
To solve that you need to go to the Control Panel, Hardware and Sound, Device Manager. Search it for the unknown device, right-click it and uninstall it:

Afterwards, try to reconnect the device once more. If the error does not persist, Windows should now be able to install its drivers and get it working.